Using the TPISS Instrument Sharing Server, TiePie instruments can be controlled via a network connection. When TPISS is installed and running on a computer, all instruments that are connected to this computer will be opened by TPISS and made available via the network to other computers in the network. The Multi Channel oscilloscope software running on the other computers in the network will detect the shared instruments and be able to open and use them, as if they are local instruments.
TPISS supports the Handyscope HS6 DIFF, Handyscope HS5, Handyprobe HP3 and Automotive Test Scope ATS610004D-XMSG.
The WiFiScope WS6 and WiFiScope WS5 already have network support built in, they do not require TPISS to be accessed via the network.
Installation
TPISS is available for both Windows platforms and Linux platforms.
Windows
To install TPISS on a Windows platform, download the installer and execute it.
Several components can be installed, which can be set in the Select components dialog in the installer.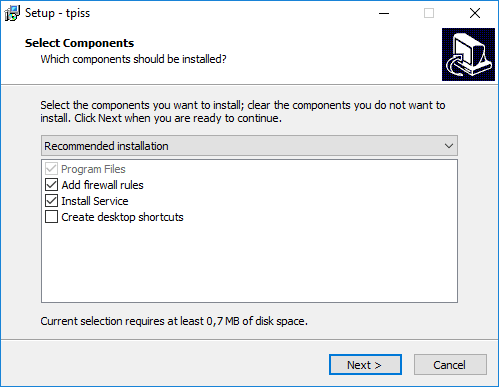 Firewall rules can be added to allow the TPISS communication to pass through a firewall installed on the serving computer. TPISS uses IANA assigned port 5450 to communicate, both for TCP and UDP.
TPISS can be installed as service and as application. When installed as service, TPISS will be running invisible in the background, without window. TPISS will automatically start when Windows is started.
When installed as application, TPISS must be started (and stopped) manually. A window will be open while TPISS is running.
Shortcuts to start and stop TPISS are added to the start menu. Additionally, the installer can also create Desktop shortcuts.
Linux
For Linux environments, TPISS is available as package. Visit the TiePie Linux package page and follow the instructions to install the TiePie repository for the correct Linux platform. Then install TPISS using:
sudo apt-get install tpiss
Note
:
When a firewall is being used, port 5450 must be opened for TCP and UDP.
Raspberry Pi 3 Model B(+)
An image is available for the Raspberry Pi 3 Model B and Raspberry Pi 3 Model B+ that has TPISS pre installed. Installing this image on an SD card and placing it in the Raspberry Pi will transform the Raspberry Pi into a ready to use instrument sharing server.
Download R-Pi image with TPISS
Installation of the rpi3-tpiss image on the SD card can be done using Etcher. More information on installing images can be found in the Raspberry Pi documentation. The image requires an SD card with a minimum size of 180 MByte.
This image is a special image, intended to only run TPISS, without keyboard and/or display connected to the Raspberry Pi. Logging in is not required, after booting TPISS is started automatically, after which it will detect the connected instruments and share them.
Read more on transforming a USB scope to a network oscilloscope.
Configuring TPISS
The default installation of TPISS provides a configuration that can be used in any situation. In case the default configuration needs to be changed, this can be done using command line options and a configuration file.