Leading WiFi oscilloscopes designed and built for everyday use

Remote measuring

Measure over large distances easily

Measure on moving objects

Continuous real-time high speed data acquisition over WiFi

Measure on moving objects

Diagnose your engine problems under load

Galvanic isolation

No risk on damaging your PC
WiFiScope, the solution for your measurement challenges
WiFiScope advantages
Wireless measurements using WiFi and built-in battery with UPS functionality (uninterruptable power supply)
Mobile measurements are possible, e.g. on transport systems or moving installations
Network and internet measurements are available for long distance measurements
Continuous live streaming measurements over WiFi, network, internet and USB
Galvanic isolated measurements, no physical connection to the PC required
Differential or single-ended inputs
USB measurements for stand-alone applications and real time high speed transient recording up to 200 MSa/s
Easy WiFi setup, connect to an existing WiFi network in a few clicks
Auto discovery, no need to enter IP addresses
SDK with many examples for easily integrating the WiFiScope in other applications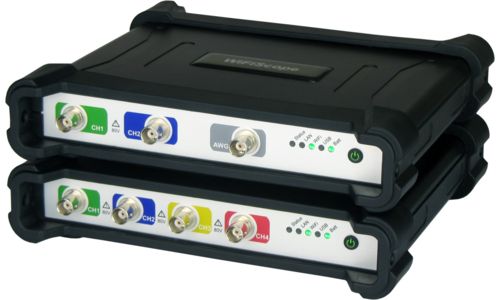 Robust industrial design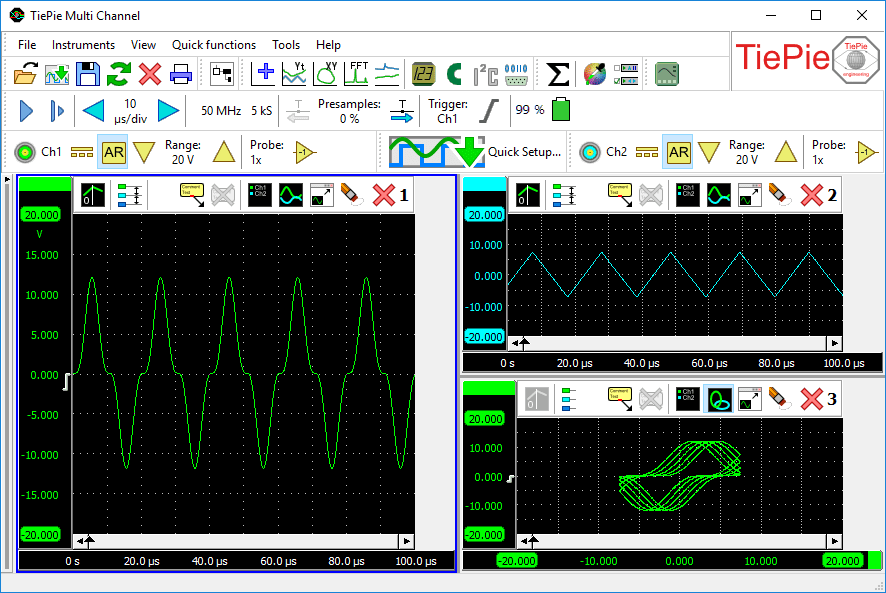 WiFiScope software
Using the powerfull Multi Channel oscilloscope software the WiFiScope can be used as oscilloscope, spectrum analyzer, data logger, multimeter, Arbitrary Waveform Generator and protocol analyzer. The software includes more than 700 quick setups that configure the WiFiScope in a single click to perform the measurement. The Quick Setups are carefully organized in a tree structure, ordered by application. Just a few mouse clicks allow to perform a complex measurement.
WiFiScope connectivity
Connect direct to PC/Laptop using USB 3.0
Connect to local WiFi network
Connect via local network
Stand alone WiFi network for field operation
Connect via internet to a remote location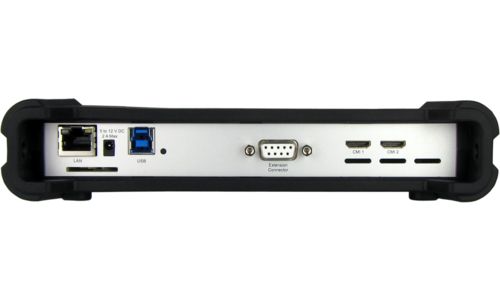 WiFiScope battery
Using the built-in battery the WiFiScope can measure for hours without external power supply. When measuring on battery power and connected though WiFi, you have the best galvanic isolation. Also the battery has a UPS functionality to continue measuring at power loss.
2 or 4 channels
Differential or single-ended inputs
Up to 1 GSa/s sampling
Up to 200 MSa/s streaming
Up to 256 Mpts data buffer
250 MHz bandwidth
Low noise / High resolution
High accuracy
Arbitrary Waveform Generator
WiFiScope WS5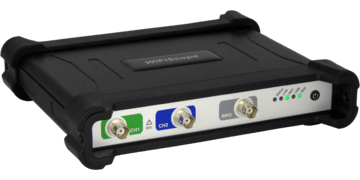 2 Single ended Channels
up to 500 MSa/s sampling
Signal Generator output
Base price: € 1,691.00
Single ended inputs
Standard single ended oscilloscope inputs measure the input voltage referenced to the ground level. The grounds of all inputs are connected to each other and to the ground of the scope.
Differential inputs
Differential oscilloscope inputs measure the input voltage between the two sides of the input, not referenced to ground. The inputs do not have a common ground connection.
Leading WiFi oscilloscopes designed and built for everyday use.
Our motto: Plug in and measure!