Warning
:
The
Handyscope HS2
is no longer manufactured and sold.
The
Handyscope HS5
replaces the
Handyscope HS2
.
For an overview of all oscilloscopes, visit the
Oscilloscopes page
.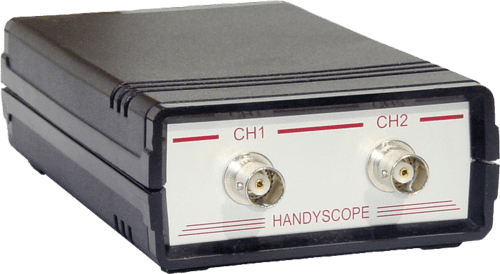 Software will remain available through this web site, but it will no longer be updated.
The Handyscope HS2 is an instrument with parallel port connection. The Handyscope HS2 will only work on a computer with a real parallel port. Connection via a third party USB to parallel adapter will not work.
Specifications
The tables below show detailed specifications of the Handyscope HS2.
Acquisition system

Analog input channels
2, BNC
Resolution
12 bits = 0.025%
Accuracy
0.2% of full scale ± 1 LSB
Ranges
100 mV to 80 V full scale
Coupling
AC/DC
Impedance
1 MOhm / 20 pF
Protection
200 V (DC + AC peak) on 1:1 probe
600 V (DC + AC peak) on 1:10 probe
Bandwidth (-3dB)
DC to 100 kHz maximum
AC coupling cut off frequency (-3dB)
± 1.5 Hz
Maximum sampling rate
200 kHz, 5 µs
Sampling clock source
internal ±0.01%
Memory
32760 samples/channel

Trigger system

System
digital, 2 levels
Source
CH1, CH2, keyboard
Trigger modes
rising edge, falling edge, inside window, outside window
Level adjustment
0 to 100% of full scale
Hysteresis adjustment
0 to 100% of full scale
Resolution
0.39% (8 bits)
Pre trigger
0 to 32768 samples (0 to 100%, one sample resolution)
Post trigger
0 to 32768 samples (0 to 100%, one sample resolution)

Interface

Interface
LPT

Power Requirements

Power from LPT port
200 mA max (1 W max)

Physical

Instrument height
40 mm (1.5 inch)
Instrument length
145 mm (5.4 inch)
Instrument width
85 mm (3.3 inch)
Cord length
1.8 m (70 inch)
Weight
500 g (18 ounce)
Accessories
2 oscilloscope probes 1:1-1:10 switchable

Options

Optionally available
400 kHz maximum sampling frequency
Optionally available
Digital external trigger input
Downloads
From this page you can download the software, drivers, manuals and source code for the Handyscope HS2.
Software & Drivers
| Description | Version | Remarks | Size | |
| --- | --- | --- | --- | --- |
| LPT/ISA Driver | | Windows NT4/2000/XP, 32 bit | 247.57 kB | download |
| Handyscope HS2 WinSoft measurement software (32 bit) | 2.87 | Windows 95/98/ME/NT4/2000/XP | 1.95 MB | download |
| Handyscope HS2 WinSoft measurement software (16 bit) | 2.30 | Windows 3.xx | 2.14 MB | download |
| Handyscope HS2 DOS Measurement software | 1.0 | DOS protected mode, English | 277.61 kB | download |
| Handyscope HS2 DOS Measurement software | 1.0 | DOS protected mode, Dutch | 280.74 kB | download |
Manuals
Programming
| Description | Version | Remarks | Size | |
| --- | --- | --- | --- | --- |
| Handyscope HS2 Instrument DLL (32 bit) | 2.90 | Windows 95/98/ME/NT4/2000/XP | 460.56 kB | download |
| Handyscope HS2 Instrument DLL (16 bit) | | Windows 3.xx | 100.35 kB | download |
| Borland C++ Builder example | | | 18.53 kB | download |
| Borland Delphi example | | | 15.38 kB | download |
| DasyLab driver | | For all TiePie measuring instruments | 259.46 kB | download |
| Instrument DLL programmer's manual | 1.29 | English | 331.35 kB | download |
| Matlab example | | for Matlab 6.5.1 and higher | 2.80 kB | download |
| Python binding for instrument DLL | 1.7 | for Python 2.7 (Windows 32 bit) | 200.51 kB | download |
| Python examples | 1.7 | | 4.90 kB | download |
| Visual Basic 6 example | | | 12.84 kB | download |