January 23, 2013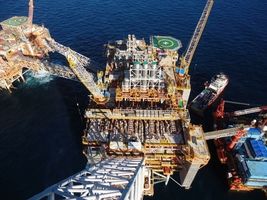 A new article describes how a Handyscope HS4 DIFF USB oscilloscope was used to solve SAE J1939 communication problems in a Diesel engine driven firewater pump system on an offshore gas platform.
A new offshore gas processing plant, Woodside North Rankin B, is built 135 km north west of Karratha (Australia) in the Indian ocean. Parts of the installations that are used on a new platform are manufactured all over the globe. When building a platform these are gathered and combined to one big offshore facility. After the initial assembling, the commissioning stage starts and all the links between the different installation components are tested. Nowadays these links consist of sophisticated bus systems like Profibus, Modbus, CAN bus, J1939, HART or fieldbus. During commissioning of the firewater pump system a problem was found: two status values of the Caterpillar D 3516 C marine engine were not properly transferred from the Electronic Control Module (ECM) of the engine to the Distributed Control System (DCS) of the platform.
A Handyscope HS4 DIFF USB oscilloscope was used in combination with the CAN analyzer I/O and J1939 decoder I/O in the TiePie engineering Multi Channel oscilloscope software to solve the J1939 communication problem between the engine ECM and the DCS.