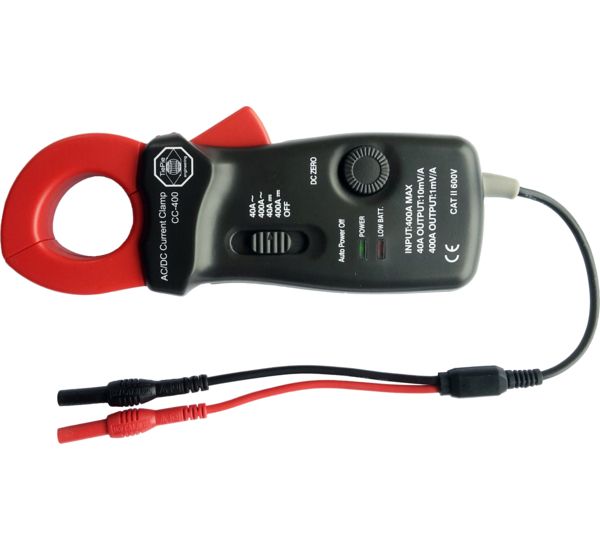 Current clamp TP-CC400
The Current clamp TP-CC400 is a current clamp that will allow your oscilloscope to measure electrical currents up to 400 Ampère AC/DC. When measuring with this current clamp, there is no need to break a closed circuit or to affect the isolation.
The wide jaws allow performing measurements on thick conductors.
For measuring DC current, a simple to operate zero adjust button is available.
To connect the Current clamp TP-CC400 to your oscilloscope, a BNC to banana measure lead is required, which must be ordered separately. For oscilloscopes with differential inputs, the Measure lead TP-C812B is recommended. For oscilloscopes with single-ended inputs the Measure lead TP-BNCI-100 is recommended.
Order code: TP-CC400
EAN: 7423620651606
Price: 106.60
Category: Current Clamps
The table below shows detailed specifications of the Current clamp TP-CC400.
Electrical

Bandwidth
DC to 20 kHz (-3dB)
Effective measurement range
40 A range
output 10 mV/A, 1 V = 100 A
400 A range
output 1 mV/A, 1 V = 1000 A
Accuracy
DC 40 A range
±(3.5% + 6 digits) (0 - 20 A)
±(4% + 10 digits) (20 A - 40 A)
DC 400 A range
±(3.5% + 6 digits) (0 - 300 A)
±(4.5% + 6 digits) (300 A - 400 A)
AC 40 A range
±(4% + 10 digits) (0 - 20 A)
±(5% + 10 digits) (20 A - 40 A)
AC 400 A range
±(4.5% + 10 digits) (0 - 300 A)
±(5% + 10 digits) (300 A - 400 A)
Output connection
cable with 2 shrouded 4 mm female banana sockets

Dimensions

Captured conductor size
20 mm maximum
Weight
240 g
Height
38 mm (1.5 inch)
Length
190 mm (7.5 inch)
Width
70 mm (2.8 inch)
Length of cable
30 cm (11.8 inch)

Power Requirements

Power indicator
Green LED
Battery type
Standard 9 V IEC 6F22 cell
Battery life
80 hours typical with alkaline
Low battery indication
Red LED

Ambient

Operating Temperature
0 to 50 °C
Relative Humidity
25 to 70%
Storage Temperature
-20 to 70 °C
Relative Humidity
25 to 80%

Certifications and Compliances

CE mark compliance
Yes
RoHS
Yes
The Current clamp TP-CC400 is delivered with:
| Amount | Item |
| --- | --- |
| 1 | Carrying case |
| 1 | Current clamp TP-CC400 |
| Description | Version | Remarks | Size | |
| --- | --- | --- | --- | --- |
| Current clamp TP-CC400 user manual | 1.3 | English | 342.50 kB | download |